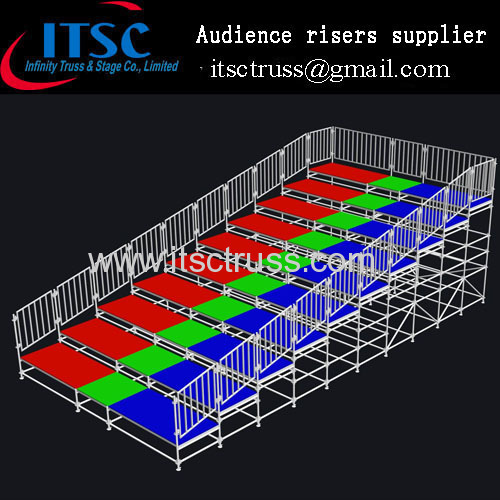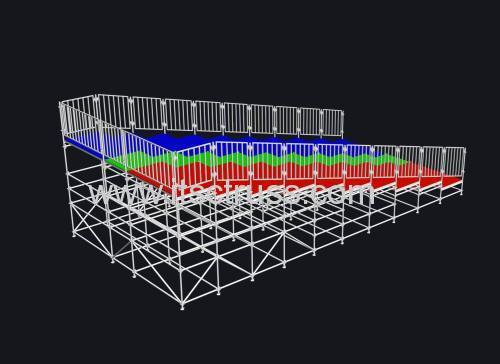 Product Description
Product Attribute

The General audience riser, also name" Seating system",is based on Steel scafolding as supports, plywood sheets as deck, and chairs optional.
This Riser is for your general or studio audience to view your concert, fashion show, or special events. It provide an elevated view for your patrons to see what they are there to see! China supplier of ITSCtruss factory offers riser system for special events, studio audiences and concert events. Every concert of special event is different. Let us design what you need and provide them for you. Complete seating riser platforms services that include engineering and permitting serivice.
Item:
Audience risers China supplier
Technical Structure-Audience seating:
Basic supports:
Steel scalfolding
Surface:
Aluminum frame and 18mm plywood sheet
Siz:
1830mm x 2048mm /pcs
Hight:
250mm / step
Amount:
Costomized
Holding capacity:
Approx.600 seats
Options:
Folded and unfolded chairs
Applications:
Sports, theater, indoor and outdoor events, open ceremonies



We accept Bank wire and Western Union, L/C

30% deposit, and the balance can be payed on the delivery

Goods can be deliveried within 10 working days after payment is confirmed

Ship by sea / by air/ by courier, and door to door service can be acceptable

Quotation is valid within 20 days

Price term is usually EX- work, CIF/FOB also available

Bank information:
1) Personal bank:

Name of bank: Band of China Guangdong branch Guangzhou Panyu Yajule sub-branch

Account: 621-6611-90000-1100-856

Beneficiary person: Yanli Chen

Beneficiary country: China

Swift code: BKCHCNBJ400

2) Company bank:

Beneficiary: Infinity Truss & Stage Co., Limited

Account number: 819-604026-838

Beneficiary Bank Name: HSBC Hong Kong

Beneficiary Bank Address: 1 Queen's Road Central, Hong Kong

Swift Address: HSBCHKHHHKH

Remarks: as reported that there are cheats on international business, some hackers may access to your email addess and waiting for your wiring payment. and some of them maybe pretend to be ITSCtruss represensitive and send you another bank accounts, so before wiring payment, please do confirm with our company and just wire to the bank accounts shown above. If transfer by Wester Union or Money Gram, just wire to : Yanli Chen as well.
About us:
Based in China, Infinity Truss & Stage Co., Limited has been a well-known name in the market since its inception in 2011. We believe in providing the customers with high quality products and services. We have grown to the position of market leaders and are considered as one of the most preferred vendor of various Aluminium and other products.

The Philosophies of Infinity Truss & Stage Co., Limited Group
Our company is very proud of its excellent products and close bond with its customers, which have been encouraging our operations and development. The core philosophies are as follows :
Unity

With team-work spirit, Infinity Truss & Stage Co., Limited group always work miracles by making the dreams come true! Besides, owing to our loyal customer community and our counterparts, who have been cultivated the market, we have carved a niche for ourselves. With our efforts, impossible is just not in our vocabulary! This is the power of Unity.
Innovation
"Innovation Is the Key to Survival". As for our China Aluminum Truss, there are four most common connection types: Plated connection, Tube connection, Pin/Fork connection, Conical connection, we take great pride in our Spigot Truss. Our Conical spigot connection is very quick and simple to assemble, which are so popular around the world. Besides, our creative process is the basis of any design, production, installation and operation. We are strengthened in creative concept, designs, and realize them by offering the most satisfactory results for our customers. Our development mainly comes from our innovation.
Construction
Construction is the soul of our operations. Our performance equipment is very challenging in terms of construction. Our goods are simple and safe, easy and quick to assemble, modern and smart. We have a profound knowledge of what to do and what not to. Construction is our concentration.
Combined Knowledge
With nearly 5 years of experience and development, Infinity Truss & Stage Co., Limited has become one of the largest Manufacturer and Supplier of Aluminum lighting truss, stage and flight cases in China. Our goods are sold around the world including USA, UK, Australia, Malaysia and South Africa .We take care of various procedural intricacies related to negotiation, order, design, engineering, production, sales and shipping. We combine knowledge with safety, training and education for our clients to develop a sustainable business for our customers and partners.
In a word, the four philosophies is the reflection of our growth and developments. We have been always striving to provide our clients with user-friendly and safe solutions. We are able to offer the complete range of China Spigot truss, aluminum lighting truss, layer truss, portable trusses, hand truss, goat post, circular truss, PA truss, aluminum moving stage, folding stage, steel stage and all kinds of flight cases etc.
Our Team
Our company is backed with a team of experienced and pioneering designers and workers. They have enough experience and expertise in the domain. Our team comprises of the following members :

Procuring Agents

R&D experts

Sales and Distribution Staff
Quality Assurance
Quality is the solid foundation of our company's growth. We are introducing modern enterprise management system which is engaged to the purpose of "customer's expectation is our goal". Keeping this belief in mind, we hold on to the three elements to win our customers :
Credibility

Development

High quality
| | | | |
| --- | --- | --- | --- |
| Brand Name: | ITSCtruss | Materials:: | Galvanized steel |
| Platform:: | 18mm plywood | Size:: | 24x2m high |
| Guardrail:: | Available | Colour:: | Red, Brown, Black |
| Market:: | Global | OEM/ODM:: | Acceptable |
| Logo printed:: | Acceptable | Place of original:: | Guangdong |
| Character:: | Durable, anti-slip | | |
Min. Order: 1 Set/Sets
Payment Terms: L/C, T/T, WU
Place of Origin: Guangdong, China (Mainland)
Means of Transport: Ocean, Land
Production Capacity: 200sets/month
Packing: Carton / Air bulble
Delivery Date: 10 working days
Brand Name: ITSCtruss
Materials:: Galvanized steel
Platform:: 18mm plywood
Size:: 24x2m high
Guardrail:: Available
Colour:: Red, Brown, Black
Market:: Global
OEM/ODM:: Acceptable
Logo printed:: Acceptable
Place of original:: Guangdong
Character:: Durable, anti-slip